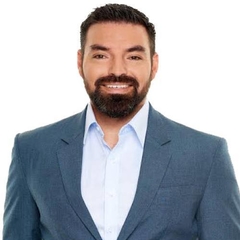 Vicente "VINNIE" Enriquez was born in San Diego and has lived all over
including New York, Bay Area (Atherton), Prague, London but San Diego has always called him back and where he can call home. He learned over the many years that San Diego offers a little bit of what all of those other cites offered and that is why he can truly appreciate it. Vinnie started his real estate career in 2012 and has sold over $100,000,000 worth of San Diego Real Estate personally.
Over the years he built out his Real Estate Team, The Enriquez Group. At The Enriquez Group they strive to make their clients real estate transaction as seamless as possible. They have built their team around their clients needs and pride themselves on always compassionate, consistent, and knowledgeable throughout the transaction process.
Vinnie also hosts The Road to Growth Podcast. "Road to Growth: success as an entrepreneur" is a podcast that focuses on the struggles that all entrepreneurs go through. Each week we will interview different business owners, hear their stories of adversity and how they worked through them.